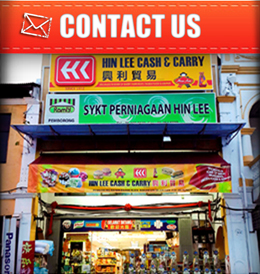 Address:

No. 16, Jalan Sulaiman, 84000 Muar, Johor.

H/p:
+6012-662 2960 (Steven)
Tel:
+606-952 1199/2569
+606-955 6999

Fax:
+606-954 6699


Email:
ywchia@hotmail.com
hinleetrd@yahoo.com
LOCATION MAP :



OUR COMPANY
HIN LEE CASH & CARRY WAS FOUND SINCE 1975. OUR COMPANY OBJECTIVE IS PROVIDE SERVICES TO CUSTOMER IN FOOD AND BEVERAGE FIELD, BAKERY FIELD, FROZEN FOOD AND ETC.

OUR MISSION
OUR MISSION IS TO PROVIDE ALL KIND OF GOODS AND SERVICES TO OUR CUSTOMERS.OUR COMPANY MOTO IS "SEMUANYA ADA"

OUR PRODUCT
ALL RANGE OF PRODUCT SUCH AS FROZEN FOOD,BAKERY INGREDIENT,HAMPER AND SUNDRY.